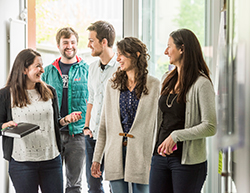 Tenure Track Group Leader Position: Molecular Mechanisms of Biological Systems
The Friedrich Miescher Institute for Biomedical Research (FMI) invites applications for a tenure-track group leader position (assistant professor level). We are seeking outstanding individuals who address questions of fundamental biological and biomedical importance through innovative, quantitative and interdisciplinary methods. We especially encourage applications from candidates who explore the function and regulation of biological pathways at the molecular and cellular level. Areas of interest include but are not limited to signaling, gene regulation, genome integrity and metabolism.
Positions include competitive start-up and core funding, as well as access to outstanding core facilities for genomics, proteomics, structure biology, cell sorting, microscopy and image analysis, C. elegans and mouse genetics, and computational biology. Our vibrant, English speaking scientific environment offers opportunities for interdisciplinary collaboration, with FMI research teams in epigenetics, quantitative biology and neurobiology (for further information see www.fmi.ch).
The FMI is a leading biomedical research center, hosting around 190 post-doctoral fellows and graduate students who are recruited world-wide. The FMI is affiliated with the University of Basel and the Novartis Institutes for BioMedical Research. Located in the heart of Europe, Basel offers a rich cultural life and multilingual schools.
The FMI is committed to raising the proportion of women in science; we thus strongly encourage female researchers to apply.
Applications, including a CV and a concise description of research interests and future plans should be submitted to www.fmi.ch/gl_search and include contact details for three referees.
The closing date for applications is April 27, 2018.
For informal inquiries contact:
Dr. Dirk Schübeler (dirk@fmi.ch) or
Dr. Susan Gasser (susan.gasser@fmi.ch)
Friedrich Miescher Institute for Biomedical Research
Basel, Switzerland