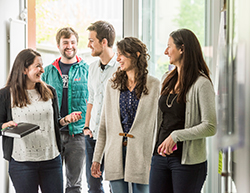 Machine-Learning Expert for Bioimage Analysis
The Friedrich Miescher Institute for Biomedical Research (FMI) seeks an enthusiastic expert in image processing, with a strong background in machine learning and analysis of biomedical image data. The position can be at junior or senior level, with the possibility of becoming permanent for senior applicants.

The FMI is a world-leading research institute located in Basel, Switzerland, focusing on fundamental biological questions with strong medical relevance. Research groups at FMI use a variety of imaging methods to address questions in cell biology, genetics, neurobiology, and other disciplines.

Responsibilities:
The candidate will be part of a team of experts in image processing and machine learning who are responsible for the development and application of image analysis workflows, under the umbrella of the Facility for Light and Electron Microscopy (FAIM). The candidate will be supported by the Informatics group for high-performance computing.

The candidate will also be in charge of teaching image processing and scripting to PhDs and post-docs.

Qualifications:
The ideal candidate has a thorough training in machine learning and computer vision including deep convolutional networks. Fluency in multiple computer programming languages such as MATLAB, Python, JavaScript, and C++ will enable the candidate to easily adapt to heterogeneous high-performance computing environments. The candidate also has experience with analysis and management of big data sets (over 100TB).
A Masters or PhD degree in physics, applied mathematics, computer science or an appropriate engineering discipline is expected. Experience in microscopy and cell and tissue imaging is appreciated.

The candidate should have excellent communication and networking skills. He/she should be able to organize tasks with flexibility and enjoy interacting with a heterogeneous group of FMI researchers.

Language requirements:
English

This position opens on:
To be discussed

Application:
Please submit your application via the FMI website www.fmi.ch/opening,
and include a cover letter, CV and contact details for three referees by
October 15 2018. Only online submissions via the FMI website will be considered.

For informal inquiries, please contact laurent.gelman@fmi.ch or christel.genoud@fmi.ch.