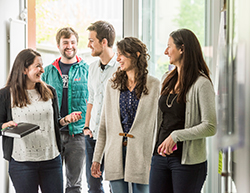 Head Animal Facility (100%)
The Friedrich Miescher Institute for Biomedical Research (FMI), based in Basel, Switzerland, is a world-class biomedical research institute dedicated to understanding the molecular mechanisms of health and disease. With a staff of about 350, the FMI offers an exceptional training environment for PhD students and postdoctoral fellows from around the world. The FMI is affiliated with the University of Basel and the Novartis Institutes for BioMedical Research. It is based in the vibrant city of Basel, Switzerland, which offers an exceptional scientific and cultural environment.
We are looking for an experienced and motivated individual to lead the FMI Laboratory Animal Facilities in the position of
HEAD ANIMAL FACILITY (100%)
In this highly interactive position, your duty will be to:
oversee and provide user-oriented support for experimentation in an animal facility hosting mainly mice.
manage user-oriented and fully compliant laboratory animal services.
manage and direct vivarium operations, including animal husbandry.
support and assist animal health maintenance and monitoring programs.
implement guidelines on animal welfare.
The ideal candidate is expected to have worked in a science-oriented research enterprise and have several years of hands-on experience in laboratory animal research. Candidates will hold a degree in veterinary medicine (DVM) or in biological sciences. Knowledge of animal facilities, animal care and use and animal welfare are essential. Previous experience in animal facility operations is a plus. We expect the candidate to be a true team player, highly interactive and communicative, and a strong leader motivated to find pragmatic solutions by interactions with facility users.
We offer a dynamic and team-oriented scientific research environment at the highest international level.
Have we raised your interest? We look forward to receiving your application by January 20, 2019.
Please submit your application and documents online at www.fmi.ch/opening.
Informal inquiries can be sent to bernhard.korn@fmi.ch.