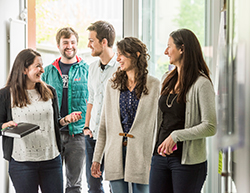 Postdoctoral Position: Molecular mechanisms driving zygotic genome activation in early embryos
A postdoctoral fellow position is available in the group of Antoine Peters at the Friedrich Miescher Institute for Biomedical Research (FMI) in Basel. The laboratory studies the mechanisms underlying chromatin dynamics, gene regulation and epigenetic inheritance in germ cell development, early embryogenesis and between generations of mice. To do so, we use interdisciplinary approaches combining methods from molecular biology, biochemistry, mouse genetics, epigenomics and quantitative (live) imaging.
The research project concentrates on identifying the role of transcription factors and chromatin modifiers in controlling the activation and repression of parental genomes in mouse pre-implantation embryos. We are looking for a bright and highly motivated scientist who has excellent knowledge of gene regulation and epigenetics, as well as experience in the generation and analysis of epigenomic data sets, preferably using low- or single cell epigenomic approaches in a developmental biology context.
The FMI is a world-class research institute in basic biomedical science that is affiliated with the University of Basel and the Novartis Institutes for Biomedical Research. The Peters laboratory provides an international and interactive environment where we value open communication, taking responsibility and collaborative team spirit. The position includes access to FMI state-of-the-art research facilities and a competitive salary. Basel is a vibrant city in the center of Europe offering an outstanding scientific environment and excellent opportunities for cultural and outdoor activities.
Applications should be submitted electronically at www.fmi.ch/opening and include a motivation letter, CV and names and email addresses of two referees.
For further information, please visit www.fmi.ch/peters.a or contact Antoine Peters at antoine.peters@fmi.ch