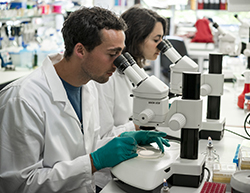 People @ the Friedrich Miescher Institute
The Friedrich Miescher Institute brings together a unique scientific community of diverse talents: world-class group leaders, highly trained professional staff, and students from around the world.
Currently the Friedrich Miescher Institute employs around 300 staff, including 22 research group leaders, about 95 PhD students and 90 postdoctoral fellows from almost 40 different countries.


Meet our PhD students and Postdocs
Meet Ishan Deshpande, PhD student, Protein Structure platform and Gasser lab
Meet Sarah Carl and Takashi Miki, Postdoctoral Fellows in Computational Biology and Ciosk lab
Meet Peter Rupprecht, PhD student, Friedrich lab
Meet Maryline Minoux, Visiting Scientist, Rijli lab
Meet Jonathan Fadok, Postdoctoral Fellow, Lüthi lab
Meet Cornelia Habacher, PhD student, Ciosk lab
Meet Philip Tovote, Postdoctoral Fellow, Lüthi lab
Meet Adriana Gonzalez, PhD student, Gasser lab
Meet Shany Koren, PhD student, Bentires-Alj lab
Meet Katarzyna Kowalik, PhD student, Bühler lab
Meet Matyas Ecsedi, PhD student, Grosshans lab
Meet Eric Fischer, Postdoctoral Fellow, Thomä lab
Meet Steffen Wolf, Postdoctoral Fellow, Lüthi lab
Meet Soledad Esposito, Postdoctoral Fellow, Arber lab
Meet Keisuke Yonehara, Postdoctoral Fellow, Roska lab
Meet Flavio Donato, PhD student, Caroni lab
Meet Adrian Britschgi, PhD student, Bentires-Alj lab
Meet Johannes Letzkus, Postdoctoral Fellow, Lüthi lab
*Note some of these PhD students and Postdocs have meanwhile left the FMI to pursue their further career.


Alumni in Profile
As part of its mission, the FMI is committed to the development and training of PhD students and postdoctoral fellows. We are very proud of the achievements and contributions those alumni make to science and society in general. The Alumni in Profile series highlights the stories and career pathers of some of our former colleagues.
Alumni In Profile Peter Nestorov, PhD student, Peters lab 2009-2015

Search the directory
Key contacts
General Inquiries
»
Secretariat
PhD Program
»
Elida Keller
Communications
»
Isabelle Baumann
Human Resources
»
Jitka Steuer
Patents and Licensing
»
Dr. Nicolas Favre