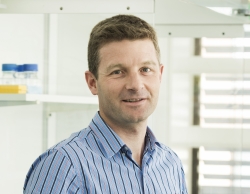 Marc Bühler, Recipient of the Friedrich Miescher Prize, FMI Group Leader

Photos may be used free of charge only in connection with reporting on this media release. Not to be archived. © FMI.
»
Interview on Telebasel
January 25, 2011

FMI researcher Marc Bühler wins prestigious Friedrich Miescher Prize
This year's Friedrich Miescher Prize, a nationwide competition for outstanding scientists under 40, is being awarded to the epigeneticist Marc Bühler of the Friedrich Miescher Institute for Biomedical Research. The award recognizes his work on the interaction of RNA with chromatin, and how these processes influence cell fate. The Friedrich Miescher Prize is Switzerland's highest honor for upcoming researchers in the field of biochemistry.
Marc Bühler is a Group Leader at the Friedrich Miescher Institute for Biomedical Research (FMI), which is part of the Novartis Research Foundation, and holds a Swiss National Science Foundation (SNSF) Professorship. His 9-strong team is investigating epigenetic processes in fission yeast and man. By focusing on the interplay between RNAs and chromatin, his work combines two cutting-edge research areas. It has only become apparent over the last 5 years that small RNA fragments can significantly affect the stability and regulation of genetic material. In this context, fission yeast represents a particularly interesting object of research: it is easy to culture and analyze, and the processes studied by Marc Bühler have counterparts in human cells.
Commenting on the award, Marc Bühler said: "I'm delighted that this award recognizes the pioneering nature of my lab's work and its importance for a fundamental understanding of cellular mechanisms, such as the role of non-coding RNA. Especially in a young field like this, experiments in simple organisms like fission yeast are vital if we are to gain access to processes that are also crucial for human disease."
The Friedrich Miescher Prize is Switzerland's highest honor for up-and-coming biochemical researchers. The award is granted every year by the Swiss Society for Biochemistry to the best scientific contribution in this field. Prize winners must be under 40 and must either be Swiss citizens or have conducted the prize-winning research in this country. The award was instituted in 1970, and is named after the Basel scientist who discovered DNA.
The official award ceremony will take place on January 28, 2011, during the annual meeting of the Union of Swiss Societies for Experimental Biology (USGEB) in Zurich.
This is not the first time the prestigious award has been won by an FMI researcher: previous awardees have included Silvia Arber, Dirk Schübeler and Wilhelm Krek, and in the 1970s Albert Hinnen and Kaspar Winterhalter.
Contact
Sandra Ziegler, sandra.ziegler@fmi.ch, Tel. +41 61 696 15 39.
Marc Bühler, marc.buehler@fmi.ch, Tel. +41 61 696 04 38.
About the FMI
The Friedrich Miescher Institute for Biomedical Research (FMI), based in Basel, Switzerland, is a world-class center for basic research in life sciences. It was founded in 1970 as a joint effort of two Basel-based pharmaceutical companies and is now part of the Novartis Research Foundation. The FMI is devoted to the pursuit of fundamental biomedical research. Areas of expertise are neurobiology, growth control, which includes signaling pathways, and the epigenetics of stem cell development and cell differentiation. The institute counts 320 collaborators. The FMI also offers training in biomedical research to PhD students and postdoctoral fellows from around the world. In addition the FMI is affiliated with the University of Basel. The Director of the FMI since 2004 is Prof. Susan Gasser.