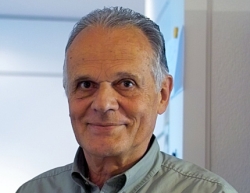 Jean-Pierre Jost
Epigenetic gene regulation in vertebrates and plants
In June 2002, I retired after 32 years as research group leader at the Friedrich Miescher Institute. In my laboratory we developed new techniques to study the patterns of DNA methylation. Specifically, we investigated the molecular mechanisms underlying changes in the methylation patterns of specific genes during differentiation and their role in activating genes. We put a special emphasis on the molecular characterization of the enzyme-RNA complex involved in the replacement of 5-methylcytosine by cytosine (epigenome editing?). The implications of DNA "demethylation" were studied in developing chicken embryos and in differentiating mouse myoblasts. For selected references and downloads describing this work follow the link to publications.

Biography
I was born in Avenches, Switzerland and began as a farm worker and postman in the Alps. After gaining admission to the Swiss Federal Institute of Technology (ETH) in Zurich, I studied agronomy and received a degree in engineering followed by a Ph.D. in science. I then worked for seven years in America, at the University of Wisconsin, Madison, and the Research Center of the National Jewish Hospital in Denver before returning to Switzerland as a group leader in basic research at the Friedrich Miescher Institute.

I have been observing the behavior of animals since 1946, with a special interest in birds, and have participated in numerous competitions and exhibitions of photography. Since my retirement in 2002 I have worked as a wildlife photographer and field biologist aided by my wife and loyal assistant, Yan-Chim Jost. Together we are writing a series of books on wildlife, animal behavior and plant -animal interactions. So far we have published twenty one books (monographs and essays). For further information visit our home page: www.jostwildlife.com and Research Gate.
PhD students
Marc Fremont (1995-1999)
Yongliang Liu (1993-1998)
Lijie Liu-Sun (1994-1998)
Harald Oderwald (1991-1997)
Frederic Schmitt (1991-1997)
Martin G. Pedraza-Alva (1989-1994)
Jean-Marc Zingg (1988-1994)
Haimin Liang Burgin (1987-1992)
Melya Hughes Crameri (1984-1989)
Francoise Bieri (1972-1976)
---
Postdoctoral fellows
Don Gary Benjamin (1998-2002)
Bing Zhu (1999-2002)
Taishan Hu (2000-2002)
Steffen Schwarz (1996-2001)
Edward Oakeley (1995-1999)
Alain Bruhat (1993-1996)
Anthony Raizis (1991-1995)
Alena Donda (1991-1993)
Olivier Munch (1989-1993)
Margaret Bryans (1989-1991)
Andre Pawlak (1989-1991)
Hanspeter Saluz (1984-1990)
Iain J. McEwan (1986-1989)
Ian M. Feavers (1986-1988)
Thomas Hertner (1984-1986)
Martin Geiser (1981-1984)
Adelheid R. Viebrock (1982-1984)
Andrew Wilks (1980-1983)
Iain W. Mattaj (1979-1982)
Andrew C.B. Cato (1978-1980)
Peter J. Cozens (1978-1979)
Takeshi Ohno (1977-1979)
Sakol Panyim (1976-1977)
Christa Dierks-Ventling (1981-1976)
Urs Joss (1972-1975)
Oswald G. Baca (1973-1974)
---
Technical/Research associates
Yan-Chim Jost (1979-2002)
Michel Siegmann (1993-2002)
Stéphane Thiry (1996-2002)
Doreen Marek (1992-1993)
Carolin Joensson (Unger) (1989-1990)
Marilyn Vaccaro (1987-1990)
Carolin Unger (1988-1989)
Silvia Dressel-Reiber (1987-1988)
Patrick Bugnon (1986-1987)
Silvia Wirz (1984-1986)
Monique Thomas-Seldran (1976-1985)
Gundula Pehling (1973-1978)
Christiane Bassand (1975-1976)
Marie-Francoise Tschopp (1976)
M.F. Grebille (1974-1975)
Konrad Koch (1973)
---
Undergraduates
Yong Zheng (1999-2002)
Yaping Qian (2000-2002)
Felix Kappeler (1990)
---
Visiting scientists
Katalin Salanki (1989-1990)
Tony Milici (1989)
Michael Beigel (1988)
Tony Milici (1987)
Bruno Moncharmont (1985)
Ya-zhou Sun (1985)
Alan Mackenzie (1979-1980)
---
Education
1964
PhD, Swiss federal institute of technology, Zürich
1961
Ingénieur agronome, Swiss federal institute of technology, Zürich
Positions held
1971-2002
Senior group leader, Friedrich Miescher Institut for Biomedical Research, Basel.
1968-1971
Assistant professor in Biophysics and Molecular biology, Medical School University of Colorado Denver USA (Joint appointment with the NJH)
1968-1971
Group leader at the Research Center of the National Jewish Hospital in Denver, Colorado USA
1967-1968
Postdoctoral fellow, Department of biophysics and molecular biology, University of Wisconsin, Madison, USA.
1964-1966
Postdoctoral fellow, McArdle Memorial Laboratory for Cancer Research, University of Wisconsin, Madison, USA.