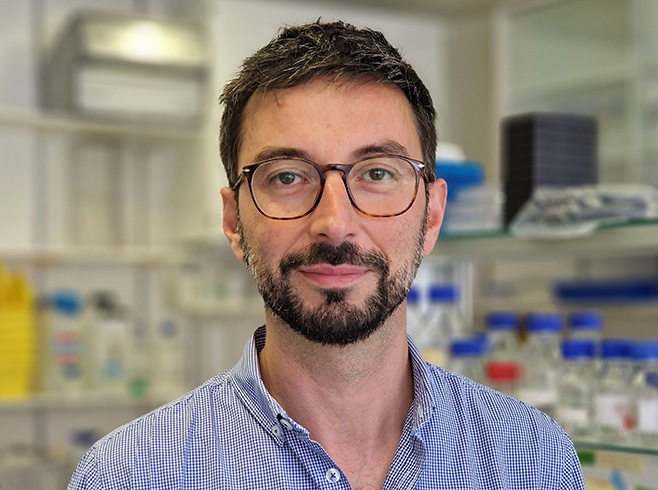 Group News
Jul 4, 2023
Luca Giorgetti elected as EMBO Member
Feb 8, 2023
Luca Giorgetti receives SNSF Consolidator Grant
Dec 5, 2022
Video: Mighty proteins keep DNA regions close for longer
Apr 13, 2022
Enhancer-promoter interactions — distance matters
Apr 19, 2021
The architect of genome folding
All group news
Resources
Luca Giorgetti
Chromosome structure and transcriptional regulation
To establish and maintain gene expression, cells require precise control of transcription. In mammals, this involves trans-acting factors, such as transcription factors binding to promoter-proximal regulatory sequences, as well as cis-acting elements such as cell-type specific enhancers, which are often located hundreds of kilobases away from their target promoters.

Functional interactions between distal enhancers and target promoters require them to be in close physical proximity, which in turn is linked to the way chromosomes fold in the three-dimensional space of the cell nucleus. To fully understand transcriptional regulation, it is therefore fundamental to quantitatively characterize chromosome conformation, including its cell-to-cell and temporal variability.

Chromosome conformation capture (3C)-based studies, which measure chromosomal contacts using chemical cross-linking, have revealed that mammalian chromosomes are partitioned into a complex hierarchy of interaction domains, at the heart of which lie topologically associating domains (TADs) and their substructures. Genetic evidence has shown that these specific chromosomal structures restrict the genomic range of enhancer-promoter communication, as well as fine-tune the three-dimensional interactions between regulatory sequences.

However, the mechanistic details of how physical interactions within chromosomes translate into transcriptional outputs are totally unknown. In our lab, we explore the biophysical mechanisms that link chromosome conformation and long-range transcriptional regulation in mouse embryonic stem cells (ESC) and differentiated derivatives, using molecular biology, genetic engineering, single-cell experiments and physical modelling .
Contact
Luca Giorgetti
Members
Group leader
Luca Giorgetti (Senior group leader)
---
PhD students
Julie Cordier (PhD student)
Nessim Louafi (PhD student)
Elena Testoni (PhD student)
Gergely Tihanyi (PhD student)
Jana Tuennermann (PhD student)
---
Postdoctoral fellows
Ilia Fliamer (Postdoctoral fellow)
Pavel Kos (Postdoctoral fellow)
Kristina Makasheva (Postdoctoral fellow)
Mattia Ubertini (Postdoctoral fellow)
---
Technical/Research associates
Julie Cramard (Lab manager)
Gregory Roth (Research associate, computational biology)
---
Alumni
PhD students
Josef Redolfi (2015-2020)
Yinxiu Zhan (2015-2020)
---
Postdoctoral fellows
Jessica Zuin (2015-2022)
Ewa Piskadlo (2018-2022)
Yinxiu Zhan (2020-2022)
Josef Redolfi (2020-2021)
Marco Michalski (2018-2020)
---
Technical/Research associates
Mariya Kryzhanovska (2017-2021)
Peter David Cron (2015-2018)
---
Undergraduates
Nessim Louafi (2023)
Elena Testoni (2022)
Alexis Cornec (2021)
Simon Gaudin (2021)
Tania Distler (2019)
Camilla Ugolini (2018)
---
Visiting scientists
Karolina Stepniak (2018-2019)
---
Education
2010
PhD, European Institute of Oncology (IEO), Milan, Italy
2003
MSc Physics, University of Milan, Italy
Positions held
2022-
Senior Group Leader; Friedrich Miescher Institute for Biomedical Research
2015-2022
Junior Group Leader; Friedrich Miescher Institute for Biomedical Research
2010-2014
Postdoctoral Fellow; Institut Curie, Paris, France
2004-2006
Research Associate; European Institute of Oncology (IEO), Milan, Italy
Honors
2017
EMBO Young Investigator Award
2017
European Research Council (ERC) Starting Grant
2011-2013
EMBO Long-Term Fellowship
2006-2011
Italian Institute of Technology (IIT) PhD fellowship